Tue, 01/24/2017 - 14:24

- Blog
Five Ways an Ad Blocker Keeps You Safe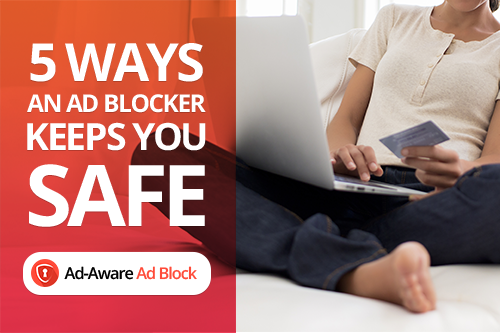 In addition to having up-to-date antivirus software, ad blockers are becoming a must-have extension to keep you protected online. Here are five ways in which an ad blocker keeps you and your loved ones safe: 
Protects You from Malicious Ads
In the past few years, online advertising has been used to infect internet users with malware. These users targeted did nothing more than browse their favorite sites when one of these ads attempted to target their computer. Malicious online ads are often placed on legitimate sites and redirect users to hacker-controlled sites which attempt to infect them with malware.
Lets You Control What You See
In addition to spreading malware, online advertisements can contain content which is inappropriate for you and other computer users like younger family members. Advertising networks are not controlled by the website you visit, therefore ads can sometimes show sexually explicit, violent, or other unwanted content. An ad blocker limits users' exposure to this content by blocking these ads.
Helps Maintain Your Privacy
Ever perform a Google search for a new mattress or a cheap flight to Vegas and for the following week, all you see are ads for mattresses and flight deals? A hidden component of online advertising is tracking technology which records your online activity, compiling it into various marketers' databases and using it to target advertising. Ad-Aware Ad Block stops these advertising trackers, allowing you and your loved ones to maintain you online privacy. 
Stops Tech-Support Scams
Pop-up windows and other kinds of online ads can also be used to mimic safety warnings from reputable companies like Microsoft, coercing unsuspecting users to call fake technical support phone numbers. These advertisements will often take the form of fake virus infection warnings or other scare-tactics which imply a sense of urgency. Such tech-support scams attempt to trick users into calling the phone number provided and paying inflated fees to fix computer problems that do not exist.  
Blocks Pop-ups 
Unexpected pop-up windows on websites are one of the most annoying aspects of the online experience. While most pop-ups can be closed with a simple mouse click, some attempt to trick users to click on the advertisement by mimicking their computer buttons. Inadvertently clicking such pop-ups can lead users to download malware or puts their computers at risk in other ways.