Tue, 09/13/2016 - 11:57

- Archive
How to remove driver performer
Driver Performer is a program that is supposed to perform a scan of your computer and all attached devices to determine which drivers are either missing, corrupt, or have become obsolete. It is presented as tool that helps to improve the performance of your printer, graphic cards, scanner, and many other internal computer devices. 

There are two types of the application, one of which is a premium version which cost about $30. Once Driver Performer gets inside your computer it starts to scan it for outdated drivers. But when you try to fix these issues, Driver Performer states that you need to buy its full version first.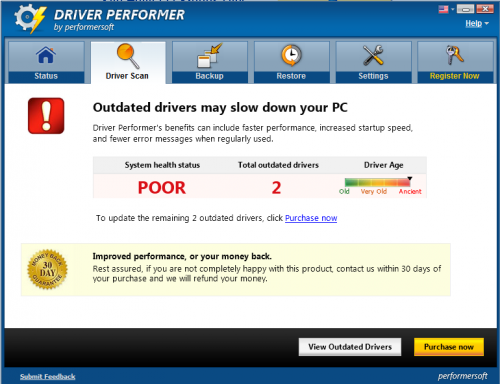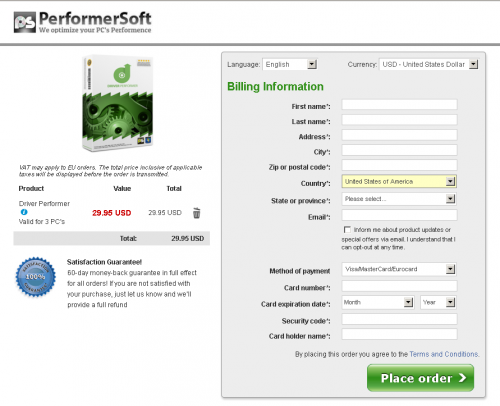 Unfortunately, in reality instead of helping to avoid the problems, this program keeps performing its scans and reports about fictional issues. Most of the problems reported by Driver Performer are not real or can't be resolved because it is normal to have them on your computer.  Thus you should realize that this application was created for monetization purposes only.

Driver Performer is spread via different websites and has to be installed manually. You can download it from many sources that are legitimate and trusted. However, in most cases Driver Performer gets inside the system in a bundle with other programs. The industry categorizes this application under the potentially unwanted program (PUP)category. Typically, it is distributed via freeware and shareware applications. That is why you should always choose a custom installation and uncheck unknown applications to avoid such unwanted guests.

HOW TO REMOVE PC PERFORMER

1.    Terminate malicious process(es) (How to End a Process With the Task Manager):

2.    Go to 'Start' and select 'Control Panel.
Click 'Uninstall a Program' under 'Programs'.
Choose 'Driver Performer' and select the 'Uninstall/Change' option.
Click 'Yes' and 'OK' to save the changes.
3.    Make sure you don't have any traces of the program on your PC:
C:\Users\adm\Desktop\NewFiles\Files\ProgramData\Microsoft\Windows\Start Menu\Programs\Driver Performer
C:\Users\adm\Desktop\NewFiles\Files\Program Files\Driver Performer
4.     Now please install Ad-Aware to make sure you do not have any infections:
Click here to install Ad-Aware Free Antivirus+ and follow the installation instructions from Ad-Aware User Guide ('Installation and Uninstallation' -> 'Ad-Aware Install' section).
Perform a full scan of your PC with Ad-Aware (following Ad-Aware User guide: 'Scanning System' -> 'Running a scan' section).
Finally, it is recommended to always keep your antivirus up-to-date and perform weekly full scans. Also, we advise you to do a custom AV scan of any application downloaded from the internet before you proceed with its installation.