Wed, 12/14/2016 - 07:00

- Archive
Maintaining your privacy on the internet
As technology advances, trying to maintain privacy on the Internet has become increasingly difficult. Nowadays there are so many different ways to be tracked online. Many everyday activities now involve computers and the Internet. Cell phones, emails, web browsers, search engines, and social media sites are just a few examples of technologies that produce digital footprints as a natural byproduct of using them.
These digital footprints we leave all over the internet can still be kept safe and far from cyber scammers' reach if we remain very vigilant and continuously practice safe browsing tactics.
Here are a few tips to control and maintain your privacy when using the Internet:
1.     First and foremost, install adaware ad block on your browser.
Advertisers and trackers analyze and record where you click and the websites you visit in order to gain information about your behaviors. They use this to better target you with ads or discounts on your searches, social media and other websites you visit. 
2.     Tweak Your Social Media Privacy Settings
 If you're aiming to be more conscious of your Internet privacy, the default settings for your social media profiles could use some tweaking. We've previously written about some ways to improve your privacy online with a list of Facebook privacy settings that you should pay close attention to, and also mentioned how to enable Twitter's Do Not Track settings. In addition to updating your social media privacy settings, it's a good idea to log off sites like Facebook and Twitter whenever you're not using them.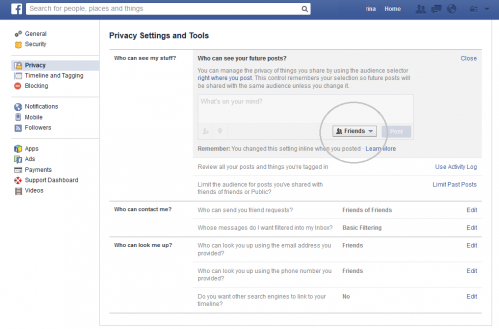 3.     Block Third-Party Cookies
 As you surf the web, web sites follow your every move. Through the use of "cookies" – files that record your actions – they can tell the last time you visited a site, what your user name is, whether you should be logged in automatically, and much more. Web browsers are beginning to include features that allow you to block third-party tracking, which has gained traction in recent years.
How to block third party cookies on:
Internet Explorer
1.    Click the "Tools" menu
2.    Click "Internet Options"
3.    Select the "Privacy" tab
4.    Click "Advanced"
5.    Check the box "Override automatic cookie handling"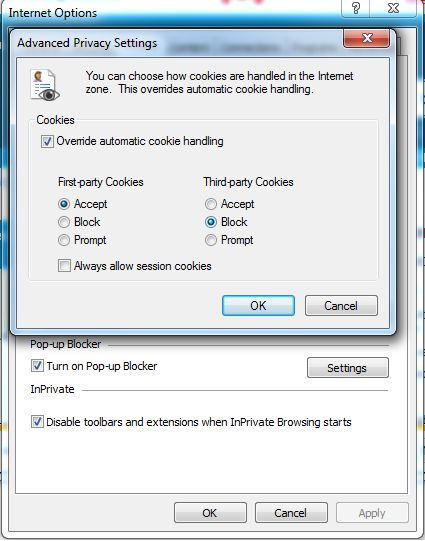 Google Chrome on Windows
1.    Select the Wrench (spanner) icon at the top right
2.    Select "Settings"
3.    Select the "Show advanced settings" 
4.    Select "Content settings" under "Privacy" and click "Close"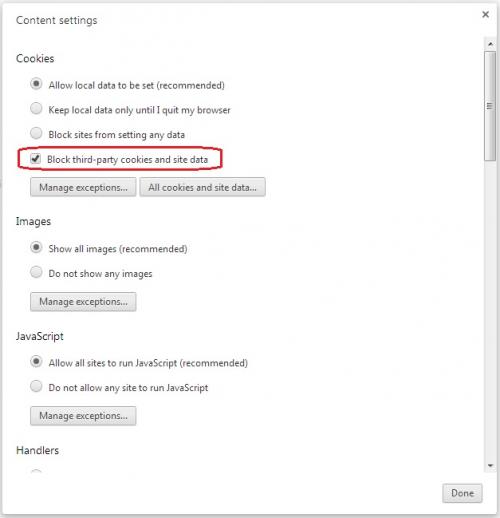 Firefox on Windows
1.    Click the "Tools" menu
2.    Click "Options..."
3.    Select the "Privacy" menu
4.    Make sure "Keep until" is set to "they expire"
5.    To unable third party cookies for ALL sites: Make sure "Accept third-party cookies" is UNCHECKED.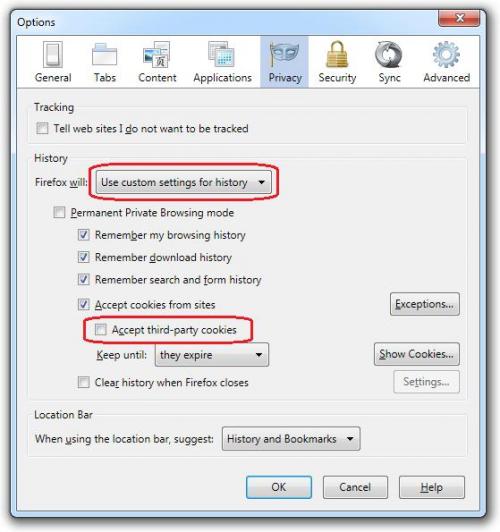 OR
To only enable third-party cookies for only your preferred & trusted websites: Click "Exceptions" then add URL and click "Allow" and then click "Close".
4.      Block Third-Party Flash Content
 Most people are aware that their web browser stores cookies. However, most people are not aware that Flash Player has its own method of using cookies, and that the information in these cookies can be shared among websites. Head over to this web page, which displays your Flash security and privacy settings, and make some changes to keep these cookies off your computer. Uncheck "Allow third-party Flash content to store data on your computer" to block these cookies from being stored. (Note: the downside to unchecking this setting is that it may prevent Flash content from playing on some websites.)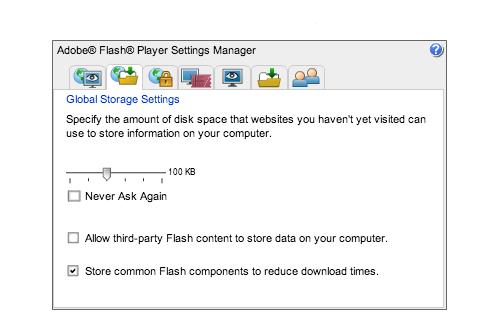 When it comes to maintaining privacy and security on the Internet, most of us want balance and transparency. Only in rare cases would people want their entire computer so locked it becomes a hassle to execute normal tasks. Other users may be fine with sharing some information with services they trust. But while we wait for better privacy laws to catch up with new advances in technology and protect us against intrusive data mining practices, use these tips to avoid letting your data get in the wrong hands.
5.      Unlink Your Accounts
 This is one of those things that may get you into heap of trouble if your account gets hacked. Linking accounts may be super convenient, but it also makes it super convenient for people to put information together about you. Whenever sites ask you to log in with some other site's authentication, particularly a social network's authentication, they're likely to be tracking your data.
 
6. Use a firewall and a secure wireless connection. Protecting your inbound and outbound network traffic is essential. There are many free software options available for this. The key is to be able to see what services/sites are trying to send/receive data over your connection. The more stringent your firewall rules are, the better. Keep your computer clean by using some kind of anti-spam/spyware software and minimize your use of highly sketchy sites.

7. Delete your cookies regularly and log out of Facebook when you are not actively using it. Almost every time you visit a site, you download a cookie from that site, which is often used to track and collect data about you, the sites you visit, etc. Therefore, deleting cookies and temporary Internet files from your browser frequently is necessary. We recommend CCleaner as an effective way to do this. Most people leave a Facebook tab open and continue browsing, not realizing that every page that has a "Like" button actively logs and tracks their online activity. Facebook collects all your browsing data and then sells it to third parties, including passing it onto intelligence agencies. Therefore, when you are not actively using Facebook, be sure to log out! Why should they know everything you're up to online?