Tue, 12/13/2016 - 14:31

- Archive
Nearly a quarter of all pcs in the world are unprotected
Malware is becoming stealthier with hackers and cyber scammers becoming more creative in finding ways to spread malware. The Internet today is beleaguered with threats such as phishing, viruses, spyware, and botnets, all threatening to challenge steal your information and breach your privacy.
Cyber criminals are increasingly motivated by the potential gains from extortion, theft of credit cards details, and abuse of private information. The need for more effective Web protection has never been greater.
The digital world has changed quite a bit since that time. In the past decade, Internet usage has gone from 361 million people online to more than 2.4 billion. People spend more time online than ever before and our reliance on computing has turned our tablets, phones and laptops into time capsules filled with confidential information about our lives.
However, yet it is still very surprising to know that nearly a quarter of all PCs in the world are unprotected from virus, malware and other malicious threats according to Microsoft's latest Security Intelligence Report.

Computers with no antivirus are five times more likely to get infected with malware than those with protection, according to Microsoft. In the first quarter of 2012, the company found malicious e-mail attachments on almost 3 million computers and detected 7 million Keygens. The activation key generators that users install with "free" software, movies or games often come loaded with malware.
Most users don't have antivirus because the trial period has expired, the software is out of date or it was disabled by malware. Some may also not realize the importance of antivirus so they don't install it in the first place. Without a proper AV program installed, your PC is will certainly be vulnerable to cyber attacks.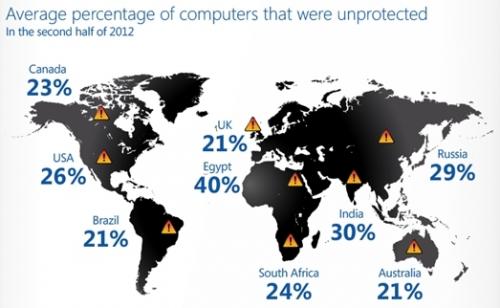 A research done by Akamai, one of the world's largest globally distributed networks found that cyberwarfare incidents jumped sharply in 2012 with the number of distributed denial of service attacks more than tripling from the previous year.
The company said its customers reported being targeted by 768 DDoS attacks last year, more than three times as many as in 2011. The company's State of the Internet report also found that more than a third of those attacks targeted the commerce sector, while another 20 percent targeted enterprise customers.
So why wait? You can dramatically reduce the risk of becoming a victim to cybercrime when you're using antivirus software as it is proven to be one of the best lines of defense to help protect people online. It does not only guard you PC against viruses but also protects your privacy and removes malware infections.
To get your  trusted and most complete antivirus protection, Ad-Aware Pro Security, please click here.