Thu, 01/26/2017 - 13:51

- Blog
Ad Blocking: How Whitelists Support Your Favorite Sites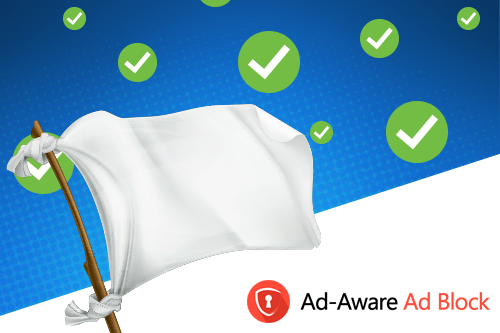 Since ad blocking extensions have quickly become popular, there are aspects of ad blocking software that may not be familiar to all users. For one thing, not all makers of ad blocking software are intrinsically against advertising. Sure, most ads are annoying and software makers want to create the best possible online experience for their users, but free online content could not survive as-is without some advertising. Some ad block extensions recognize the need to balance a positive user experience while supporting online content which, while seemingly free, is in fact supported through advertising revenue. The solution to this problem comes in the form of the whitelisting or exceptions option in an ad blocking program.
A whitelist is a list of websites on which advertising is not filtered out. Most ad blocking programs allow users to manually add websites to this list. Whitelists are also known as "Exceptions Lists." In adaware ad block, you can access the exceptions list by opening the ad block extension window in your browser and clicking the cog icon to access the Settings menu. The Settings menu will open in your browser window and here you can click the "Manage Exceptions" button to open the adaware ad block exceptions list. 
When you open the "Exceptions List" in adaware ad block, you'll notice there are already a number of websites on the list. These are the websites of publishers who we've worked with through other products and who we trust to provide a positive user experience. Out of respect for these publishers and their revenue model we have whitelisted these websites by default. Please note that you can always delete these websites from the exceptions list so that their ads are also blocked. Additionally, while some ad blockers collect money from such whitelisted websites, adaware ad block does not monetize its product in any way.
If you would like to add additional websites to this list, simply type the URL of the website(s) on which you do not wish to block ads in the field under "Hostname" then click the "+" icon. Alternately, you can simply click the power button on the extensions interface and this will whitelist the current website. These are typically sites which you trust and visit frequently or simply sites which you want to support. The whitelist/exceptions feature allows users to control their online experience while still allowing content creators to receive revenue.